Caregiver Stress Tips for the "Sandwich Generation"
May 4, 2020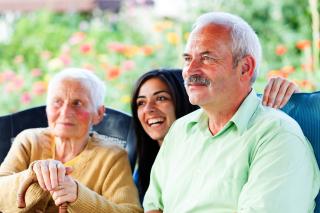 Tips for the "Sandwich Generation" Caregiver
Stress and burnout is an especially large problem for the growing "sandwich generation". This demographic of Americans are sandwiched between caring for their children and elderly parents. The Pew Research found that 47% of adults in their 40s and 50s have a parent over 65 and either young children or support adult children.
Caring for an elderly parent while raising children can disrupt your household, create a financial burden and add to your workload. This can be a long-term obstacle particularly hard to handle as caregiving stretches into years or even decades. Caregiver stress can damage your health and create emotional problems like depression.
It's essential that a caregiver creates a strategy to combat stress and burnout. This has been likened to the instructions for oxygen on a plane. Put the mask over your mouth before helping the person next to you. Not caring for yourself first could mean you can't care for the people you love.
The
Helpguide.org
article, "Caregiver Stress & Burnout, Tips for Recharging and Finding Balance", outlines five tips to help you cope. These are all common sense, yet so easy to ignore when the day to day responsibilities of caregiving are overwhelming. These tips will help keep you happy and healthy.
Ask for Help
Burnout occurs in caregivers when they try to do everything themselves. Ask for help so you can have some time for yourself. Friends will happily run errands or send over a meal if they know it will be received well. Spread the responsibility of caregiving between family members and allow them to handle tasks without micromanagement.
Take a Break
This is a hard tip to follow in the midst of the chaos of children and parents. Caregivers should take 30 minutes every day to do what they enjoy. Sometimes it requires some creativity. Locking the bathroom door or hiding in the backyard with a cup of coffee may be all you get, but it will help.
Practice Acceptance
Having a sick or dying loved one is emotionally draining and the thought of a prolonged illness can lead to overwhelming feelings of sadness and depression. Accepting the situation for what it is and sharing your feelings with a good friend can help reduce stress.
Be Healthy
A body is like a car; it needs gas, maintenance and the occasional visit to the shop. Eat well, exercise, sleep and don't skip your checkups. It will help you be a better caregiver.
Join a Support Group
Knowing you aren't alone and sharing your experiences with others can lighten the burden of caregiving. The knowledge of others in your situation can help you streamline and avoid problems. If you aren't a "joiner", find an internet site that can provide some support.
Caregiving is a hard and often thankless role done out of love for others. As a caregiver, you must love yourself first in order to be your best for the ones you love.